Why Learning about First Nations' History is Important in Early Childhood Education and Care
Profile:
We each have a connection to nature as a common starting point to begin essential conversations looking toward our future citizens, and perhaps, most importantly, reflecting on the vast amount of wisdom we can draw upon from our nation's tremendous past.
Written by: Jo Harris Educational Advisor
For every child to be able to access high-quality early education and care, it is essential that there be common goals shared by educators to ensure the best start in life. This must include learning and understanding from the perspective of First Nation's history and culture.
Currently, there are significant differences urgently needed to address the gap in learning outcomes between Indigneous and non-indigenous children. By understanding some of the key differences, sharing and integrating Aboriginal and Torres Strait Islander cultures, integration is possible, in which more children are afforded the same opportunities to thrive, meaningfully and authentically.
Early childhood educators and services have continuously advocated the value of belonging, and recognising the positive impact this has on building opportunities to strengthen and widen their knowledge base, leading to more understanding and stronger relationships within communities with everyone included.
Understanding one's culture begins at birth, with each new child/children born into families who impart their knowledge from their own life experiences. Respect for diversity begins in the earliest days of a child's life as they learn who they are once their interactions with others grow outside of their family home.
Tjoritja / West MacDonnell National Park NT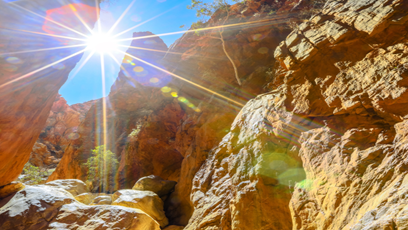 Learning from the Past
Fifty-six years ago, history was made with over 90% of Australians voting for change to include Aboriginals and Torres Strait Islander peoples to be counted as part of the population. Leading a change created an opportunity for agency amongst First Nations people and a sense of hope for the future.
For the first time since 1967, there will be a referendum in which Australians can use their voice to change the constitution to recognise Aboriginal and Torres Strait Islander people. This means that an independent advisory committee would advise the Australian government on issues specific to Aboriginal and Torres Strait Islander peoples.
At this time of year, our attention is brought to two significant dates. Reconciliation Week is held annually from the end of May until the start of June to commemorate breakthroughs with the victory of an overwhelming majority of the 'yes' vote from the success of the Referendum. Equally powerful, the High Court of Australia recognised that:
'Indigenous peoples had lived in Australia for thousands of years and enjoyed rights to their land according to their own laws and customs.
'Since 1996 the National Council for Aboriginal Reconciliation took ownership of shaping and advocating for the rights and welfare of Aboriginal and Torres Strait Islander people with other Australians. National Reconciliation Week (NRW) is a time for all Australians to learn about our shared histories, cultures, and achievements, and to explore how we can contribute to reconciliation in Australia.'
Be a Voice for Generations
The anthem for Reconciliation Week incites a passion for Australians to participate in actively changing the future through the visibility of both their words and actions. Whilst acknowledging the progress made from past generations' efforts, and looking towards the future of a fairer, non-discriminatory, and reconciled for all Australians. There are opportunities to see how it is important to continue to listen so that we can learn from the past to improve our everyday lives so that all people can benefit. It is time to raise the profile of many more issues to understand their significance.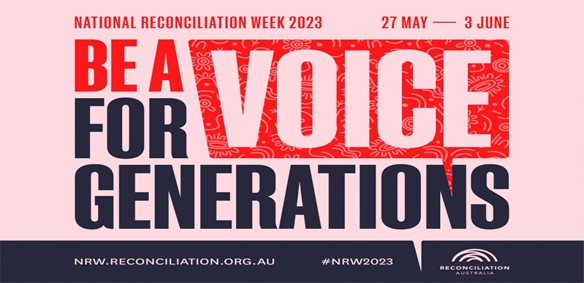 Uluru Statment from the Heart
This statement was created in 2017 at the National Constitutional Convention in which Aboriginal and Torres Strait People voiced the urgency to
'Seek constitutional reforms to empower our people and take a rightful place in our own country..' (by) calling for the establishment of a First Nations Voice enshrined in the Constitution.
The deep sentiment is centred around all Australians living harmoniously together.
'Makarrata is the culmination of our agenda: the coming together of people after a struggle.. It captures our aspiration for a fair and truthful relationship with the people of Australia and a better future for our children based on justice and self-determination.'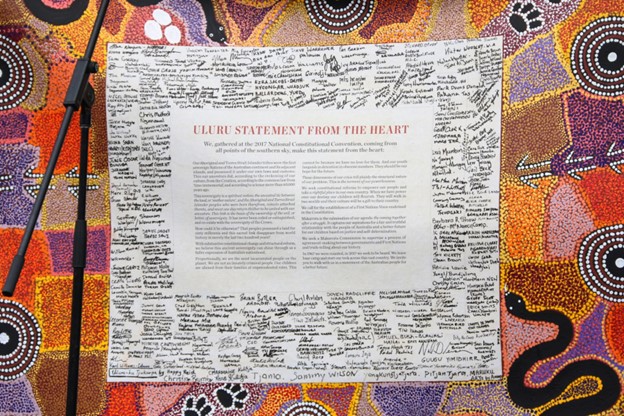 Photo Credit: Richard Milnes/Alamy
Voice to Parliament
In response to the Uluru Statment of the Heart, Prime Minister Albanese announce the proposed Referendum in which Australians will vote on a Proposed Law to alter the Constitution to recognise the First Peoples of Australia.
The question that voters will be asked is: Do you approve of this proposed alteration?
A First Nations Voice is needed to provide Indigenous communities agency over legal decisions that impact their lives with sensitivity and compassion. Greater representation is important by giving people a say which can positively affect the outcome of lives, and those of future generations.
What impact will a First Nations Voice have?
The recognition of the unique and extraordinary importance of Aboriginal and Torres Strait Islander people in Australia's past, present, and future is integral. The First Nations Voice would also offer protection from any successive Governments from overturning any decisions being made.
For Our Elders
'For our Elders,' the theme for 2023, has been depicted by the winning artist Bobbi Lockyer, Ngarluma, Kariyarra, Nyulnyul, and Yawuru woman based on Kariyarra Country in Port Hedland of the highly regarded National NAIDOC Week Poster Competition, rich in imagery that reflects her deep pride and compassion.
"Where there is knowledge, there are our Elders....they paved the pathways for us, taught us our knowledge, our history, they passed down their art, stories, and wisdom. Our Elders are the foundation of our communities and role models for our children.
Aboriginal and Torres Strait Islander Elders are referred to as 'Aunty' or 'Uncle' by Indigenous people and are held in high regard as custodians of knowledge and lore. They have permission to share information and beliefs through talking and training which teaches others how to show their respect.
NAIDOC Week follows with celebrations and events throughout Australia, all week long in the first week of July. Awareness and acknowledgment of history, culture, and accomplishments that recognise the talent and expertise of Aboriginal and Torres Strait Islanders. It is a time for reflection and respect toward Earth's oldest, continuous living cultures.
The Importance of Connection to Country
The term Country encompasses the geographical lands, waters, and seas they join and naturally interweave. It also describes aspects of laws, customs, language, beliefs, identity and family. Ngunnawal Elder Jude Barlow defines it as: 'Country is everything. It's family, it's life, it's connection..'
Country is the term often used by Aboriginal peoples to describe the lands, waterways, and seas to which they are connected. The term contains complex ideas about law, place, custom, language, spiritual belief, cultural practice, material sustenance, family, and identity. Art created by Aboriginal and Torres Strait Islanders allows us to learn more about these aspects through the lens of connections between ancestors and kin. It is a mark of respect to acknowledge when visiting the land of the Traditional Owners, which includes its custodianship of that land, their ancestors, and traditions.
Acknowledging the Deep Wisdom of Elders and Country
Historian and author Bruce Pascoe states: 'Over 60% of Australian place names are of Aboriginal origin, but most of their meanings are unknown to the public. Indigenous place names hold rich information about our land, histories, and cultures. Conversations about these places will increase local understanding of this country we share. '
Australian landmarks' dual naming began in December 1983 with Uluru/Ayers Rock in the Northern Territory. This is a highly significant confirmation of the custodianship and cultural significance that Aboriginal people have held for tens of thousands of years in Australia. Each Acknowledgment of name change can help to value Aboriginal and Torres Strait Islanders as we collectively strengthen relationships and encourage connection to Country. By encouraging the role that we as Australians can have in actively joining in reconciliation, we can become part of a more respectful community that embraces and values all its people with genuine fairness and equity.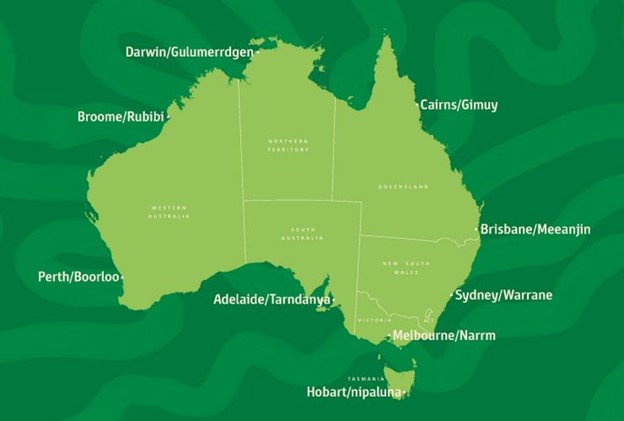 Spending time with their peers in various early childhood settings and services they are positively influenced by the people they live and learn with. Exposure through play and interaction with authentic resources can provide extensive insight into the different ways we live in communities together. Connecting with nature is one of the most important ways to explore shared culture. It gives us many opportunities to understand the critical links and interdependence that form relationships between people and other living things.
We each have a connection to nature as a common starting point to begin essential conversations looking toward our future citizens, and perhaps, most importantly, reflecting on the vast amount of wisdom we can draw upon from our nation's tremendous past. For more information about practical steps to incorporate NAIDOC Week activities and experiences please visit bellbird.com.au
Image Courtesy of Tourism Australia, 2022.
Related Articles
How Water Play Teaches Children the Importance of Conservation

Whilst recognising that water is a precious resource, when using it to explore and explain its importance to life, children can learn valuable information about how and why it sustains life.

Read more

Exploring Change through Scientific Processes

With just a few ingredients, simple experiments can be conducted with young children that assist in exploring the learning of abstract processes that create temporary and permanent changes.

Read more