Our Story
The Deans: Trent, Angela and their 3 children Allanah, Emily & Jack. They are the family behind Bellbird since 2009 after Trent's parents John and Kaye retired after 22 years in the business. See below for our full story.

Meet the Deans: Trent, Angela and their 3 children Allanah, Emily & Jack.
They are the family behind Bellbird.
Meet the Deans:
Trent has worked in the business since 2003 originally with his parents John & Kaye Dean. When they retired in 2009 Trent & Angela bought Bellbird to carry on the family business into another generation with the ambition of leaving a legacy for their children and to continue to provide a solid workplace for their staff and their families.
Trent the youngest of 3 grew up with Bellbird when his parents bought the business when he was 9. Trent has fond memories of the "Bellbird" shed on the family property in Langwarrin Victoria, where together with his brother and sister they would earn their pocket money by helping Mum and Dad out by dying popsticks, bagging up straws and decanting glue…..and Whoops as kids do got distracted leading Kaye to then find a river of glue running down the driveway!
...so where did the story of Bellbird originally begin?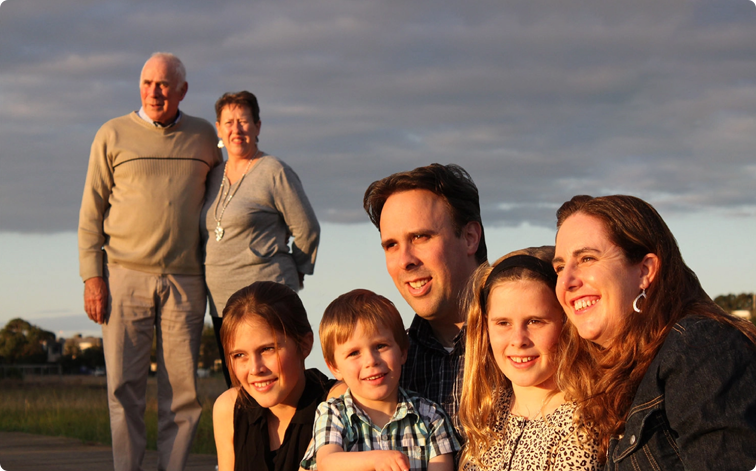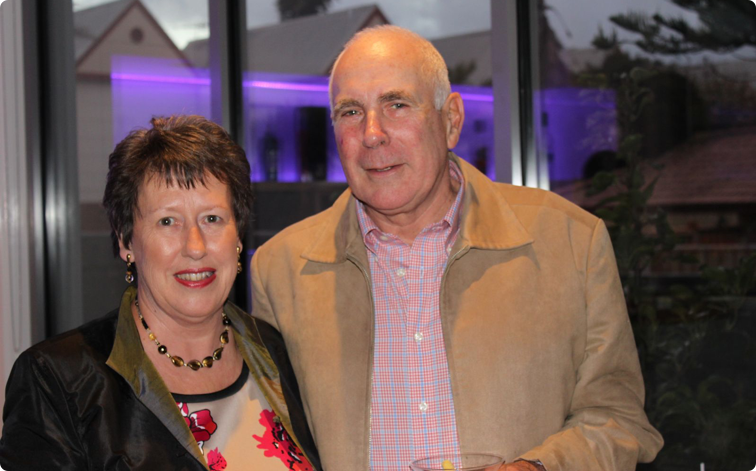 Bellbird Begins ... The year is 1987:
There once was a man in a van named Mr Bell and his "bird" Robin which together started Bellbird Pre-school Supplies. They travelled the town with a van filled with Art & craft, selling their wares to local kindergartens...
After a couple of years in 1987 Mr Bell sold his van to John & Kaye Dean. This family of 5 had just said good-bye to their family run chicken farm to start a new business venture in the early childhood sector.
John would set out daily in the Bellbird van and continue to service the kindergartens on the Mornington Peninsula in Victoria with their art & craft needs. John was the epitome of good old fashioned customer service whereby nothing was ever too much trouble, truly polite, unobtrusive service with a smile. This core value still holds strong today and is at the forefront of everything Bellbird. Kaye would work equally as hard answering the phone, picking orders, balancing the books, all whilst juggling the family.
Even Grandpa Jack would have a crack and put together the Bellbird drying rack!
After several years Bellbird had outgrown its shed and was on the move to a warehouse in Dandenong South with staff.
One man in a van had become several vans expanding their reach to all of Victoria.

In the year of 2000 Bellbird the Art & Craft Van purchased a Toy Bus business to further expand the range and we became Bellbird Kid-Z Educational Resources.

The next logical step it seemed was to try our hand in the "Back to School" stationery business to expand our current market and this is when things became rocky and Bellbird started to loose it's footing! This was a competitive price driven, labour intensive market and overruled by the majors……it looked like "The Big Cats" were going to swallow Bellbird whole with their big corporate presence....BUT just like Tweety bird Bellbird fought back against the Cat and re-focused on what it does best... our loyal customers in Early Education, the big and the small who remember fondly the Man in the Van!

This experience took its toll on the family, particularly John & Kaye who stayed strong throughout…..but in order for survival Bellbird needed a revival.

It was around this time 2003 that Trent left a successful IT career in Computer Programming and joined his parents in the business. With a passion for systems and data analysis and the energy to strive towards goals Trent went about bringing IT to Bellbird. With an expanding product range in 2006 we became Early Education's ONE STOP SHOP. Bellbird put out it's first catalogue, our logo had a revamp and our Sales team evolved from sales reps in a van to consultant's in a station wagon.

In 2009 John & Kaye retired after a successful career in many family operated businesses from milk bars to chicken farms to Bellbird to enjoy Australia's great outdoors, play golf, volunteer at a local hospital and spend time with their 5 grandchildren. John still lends a helping hand at times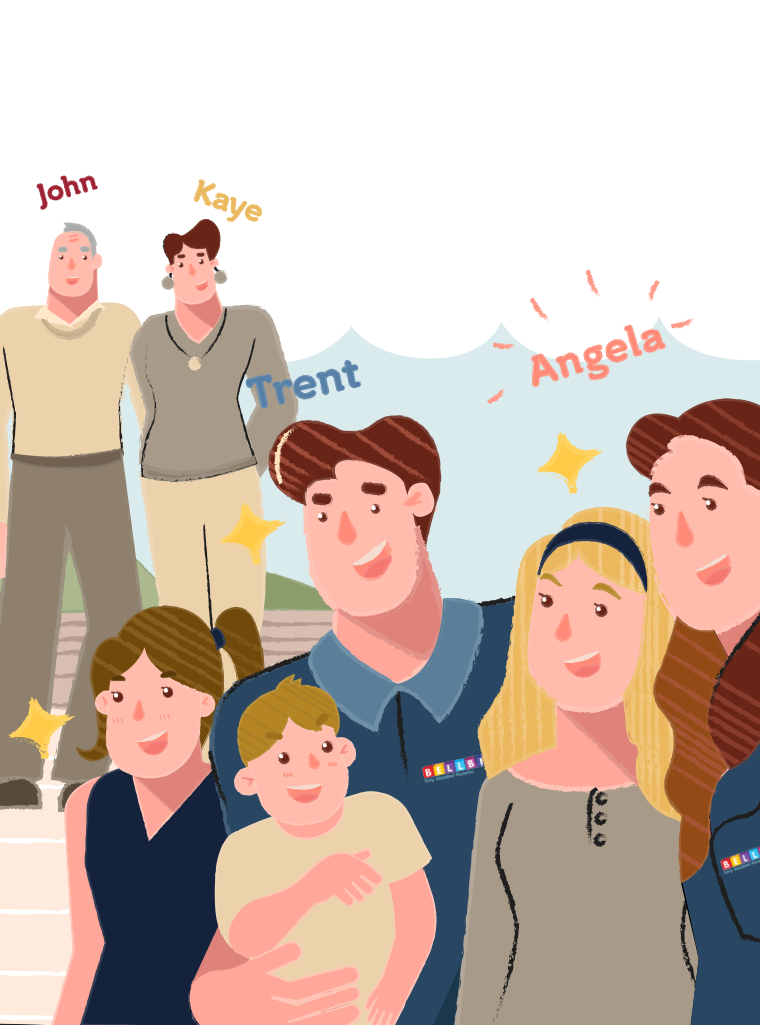 In 2010, Angela a qualified Occupational Therapist of 10 years, left her profession and joined Trent on this epic journey and together, they took the leap and bought Bellbird.
Both had inherited a hard work ethos from their parents and demonstrated their strong desire to continue to bring quality and customer service to the Early Education market not just in Victoria but Australia wide by expanding Bellbird into a National company with an on-road sales team in South Australia and NSW.
Trent hand selects all the products in the Bellbird range, with an emphasis on quality to stand the test of a roomful of enthusiastic youngsters... It helps that Trent is a big kid at heart and is regularly seen jumping on or throwing a product around to put it through his own test! Our three children, having grown up with Bellbird always in their lives, have been product testers too and feature in many product photos.
The next 8 years were go, go, go, focused on expanding our catalogue and aligning our product range with the changing needs of the industry. We grow our range with more emphasis on sustainability, natural & ethically sourced products and Australia's indigenous heritage.
In 2018 with thanks to our loyal customers, Bellbird had grown and changed enough in that time to allow us the opportunity to change our warehouse location from Dandenong South of 13 years to Lynbrook, a larger warehouse with natural light, highway frontage and a great showroom!
To have a showroom with our products on display inspires us and engages our team to connect with the resources and lift our level of customer service and remind us that we do our job to assist educators like yourself to inspire the next generation of learners who will shape our world. We would love to see you, so feel free to pop in.
During this period, we also expanded our team, extending into Qld and recruiting educators to become part of the Bellbird family to continue to educate us about the changing landscape of education and the resources that are needed to enthuse early minds.
With little time to stop and reflect, an adjustment was needed…...a time to change & grow...to be curious….so also in 2018, as a family, we decided to move to the foothills of the Dandenongs where we have found our piece of natural paradise…..3 acres of bushland for us as a family to connect back to nature.

Our increased focus on nature came at a critical time…..with the world changing at a rapid pace there is an urgency for us all to reflect on our sustainable practices, to be curious about the world around us, ask questions and to start the conversation about climate change and what we can do in our everyday practices to look after our earth….change begins with one person.
Now in 2021, at Bellbird we are embracing sustainability into our culture….from inspiring our team to learn, to take on the challenge to implement change in our workplace practices, to the products we select. We've even made the decision to not print catalogues anymore, saving 1,000 trees per year as it simply makes sense and is the right thing to do!
Please come on this journey with us…..be curious, sustainable and open to change.
Trent & Angela Dean