The Importance of having a Dedicated Art Area
Profile:
Choosing the art and resources you need to furnish and identify art spaces creates the kind of art experiences that can be offered.
Written by: Joanne Harris - Educational Advisor
When it comes to art activities and experiences, it can strike an image of chaos, especially if your resources aren't what you would like them to be. Whether you have too many, or not enough, for it to be both therapeutic and fun, it is essential to have a designated area for children to create and explore.
Having supplies that are organised and easily available can make the difference in the focus between being anxious about the noise and mess of the activity, and having an art space so well arranged with a fully stocked atelier that any artist would be envious of.
Considering the age, stage of development, and interests of children will vary between services and what materials will be offered. The selection, organisation, and presentation of those materials alongside the intentional teaching objectives you want to achieve and the kinds of experiences you will provide.
Why it is important to have a designated Art Space within your program
In addition to music, dance, and role play, art experiences allow children to connect with their rapidly changing thoughts and feelings and are a medium through which they can develop self-regulation skills by experimenting with art and creative play experiences.
Art and art spaces made available to children and a few resources that are permanently and readily accessible, such as paper, crayons and pencils which can be used independently are responsive to their needs to explore those materials.
Providing art & craft resources can enhance or extend connections that deepen children's learning. After sharing a book, children may like to draw the characters or key scenes that were important to their comprehension of the events of the story and what it meant to them.
How to Decide Where to set up an Art Area
Generally, this first decision is made simply by placing easels near the sink/preparation area for easy cleanup. This is an important factor in relation to making it easier for children to be able to go to the bathroom after they have finished, but in some cases, this can become quite limited to only one type of activity.
The size, layout, and shape of a room will affect where you might set up - those with curves and nooks can be ideal for round tables. Spaces that have walls with windows in between can be perfect for setting up shelf-hinged drying racks whilst not compromising on space.
Choosing the art and resources you need to furnish and identify art spaces creates the kind of art experiences that can be offered. Fixed pieces such as drying racks and tables can be heavy to move, and as they are often used for meals and other activities other than art, need to be positioned so that they are clear of emergency exits whilst providing ample room to safely move around.
Choosing Furniture to Create a Functioning Artspace
For younger children, providing comfortable places with a smaller and more personalised range of resources to explore, they can be supported to focus on familiarising themselves with holding and controlling them.
Rooms and areas that are short on space can become multi-functional by including portable options that are able to be moved where and when they are needed, increasing the opportunity for children to access them. The size of the group you are working with will also have a bearing on location, as will the type of furniture you will choose, and how it can be positioned.
High chairs can double as places for infants and younger toddlers to explore art materials. Older toddlers can explore process-oriented artwork on low table tops, choosing either to stand or sit on Poppet Chairs until they have developed the physical strength to stand at an easel. With a selection of easels designed for indoor and outdoor use, the art area can be extended by positioning them in both small and larger open spaces. A free-standing, double-sided Painting Window made from clear acrylic embedded with a solid wooden frame is an ideal canvas for children to explore this cause-and-effect activity.
Stocking the Art Area with Quality Supplies
One essential piece of portable equipment for use across all ages is an art trolley. Generously stocked with a few customised key items for regular use or project-specific, children will be able to find what they need to make their own creations. With shelves to fit a variety of sizes of paper and cardboard, that can sit in the trolley, preventing bending or creasing. Larger sheets of paper, including Easel & Kraft paper can stay clean, protected, and safe for backs by laying them down on the lower shelves. Smaller art and craft items including scissors, textas, glue, sticky tape, and collage materials can be arranged at the top of the trolley.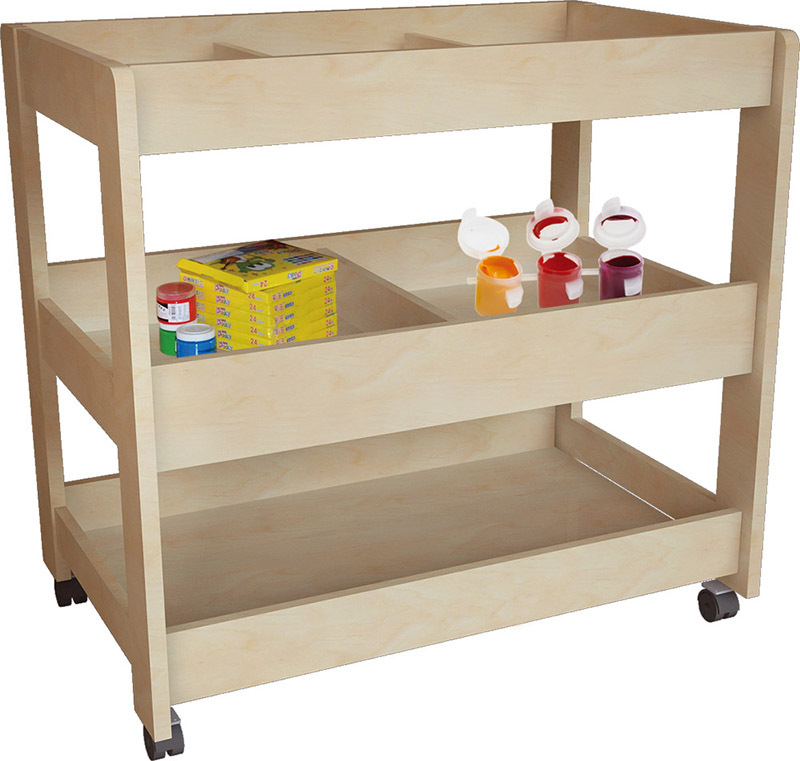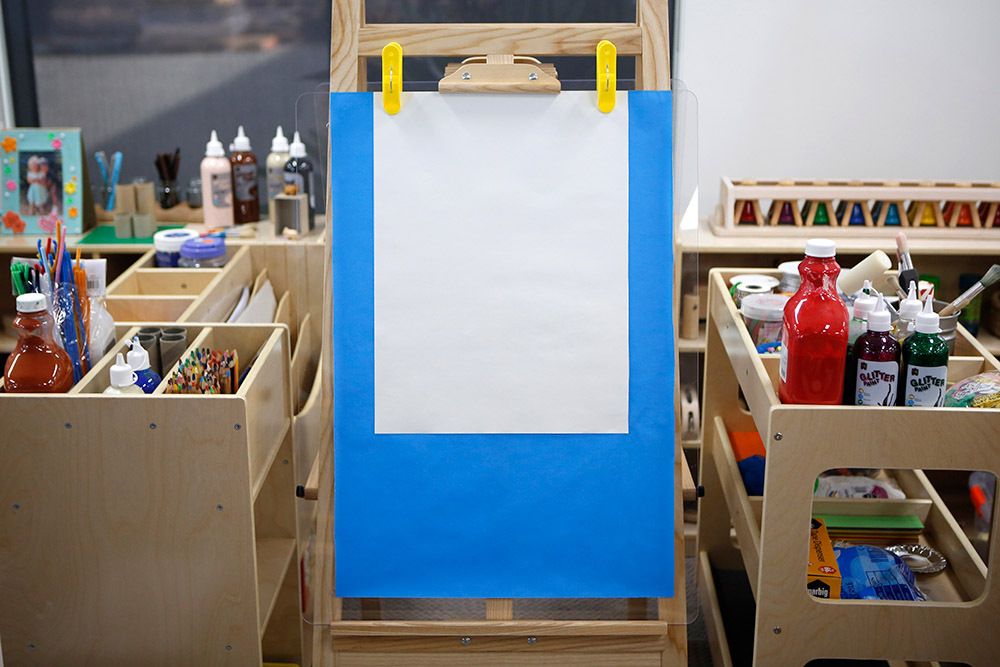 Also available is the multi-purpose art and craft trolley which features 6 compartments for a range of items to be stored. Less frequently used items and accessories can still be kept within easy reach including extra paintbrushes, paint, paint mats, paper towels, kitchen sponges, and aprons.
Beginning with Baby Stubby Brushes for smaller hands, children can graduate to finer, long-handled brushes which are ideal to stand inside paint pots at the easel.
Having a separate collection of glue brushes and spreaders will support children as they explore the actions of applying Craft Clear Gum, Clag, or PVA onto card and paper.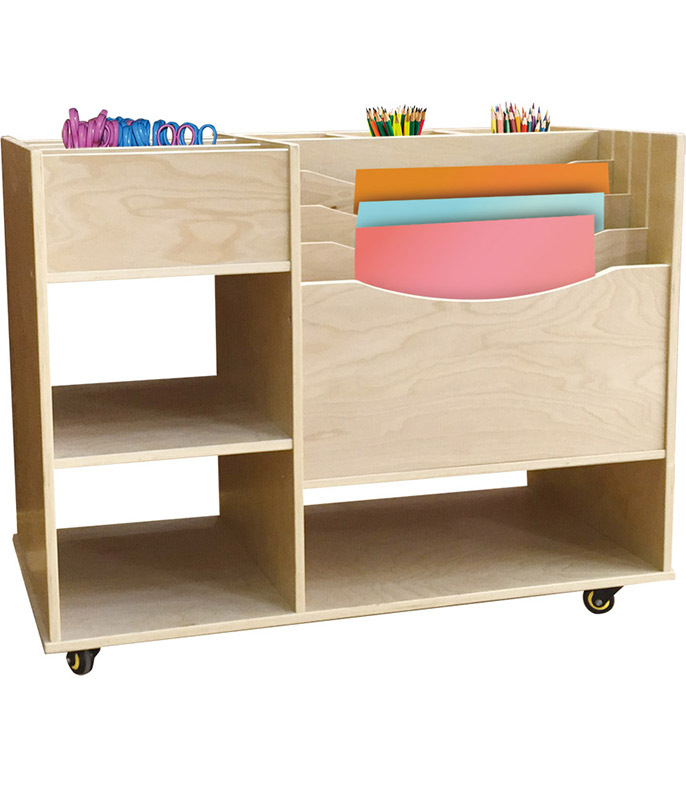 Many educators have concerns about their own creative abilities and may lack confidence in knowing what to offer children, fearing a lack of skills or materials needed to make things possible. The benefit for both educators and children is the wonderful opportunities for them to express themselves creatively through art, where they feel encouraged to share aspects of their personalities and unique perspectives about the world around them.
Having a comprehensive collection of arts and crafts resources at the ready will increase the chances for both children and educators to develop their creative skills and self-expression. Alternatively, crafting dreams is more likely to become reality with all the materials needed to bring them to life after scouring social media channels, they can be put into action!
For more ideas and inspiration with art and craft ideas and an extensive range of resources, please visit bellbird.com.au
Related Articles
How Water Play Teaches Children the Importance of Conservation

Whilst recognising that water is a precious resource, when using it to explore and explain its importance to life, children can learn valuable information about how and why it sustains life.

Read more

Exploring Change through Scientific Processes

With just a few ingredients, simple experiments can be conducted with young children that assist in exploring the learning of abstract processes that create temporary and permanent changes.

Read more