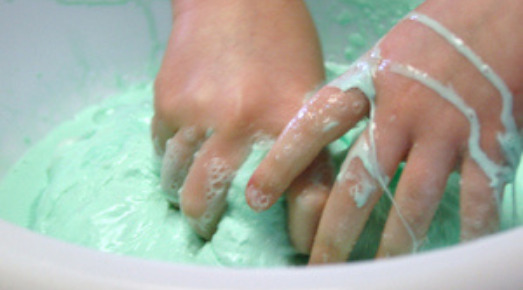 Goop Recipe
Profile:
Goop is a fun sensory play activity that is easy to make with just a few ingredients. Children can have fun and benefit from a playful science lesson while learning.
Written by: Bellbird
Ingredients:
2 cups salt
2/3 cup water
1 cup corn flour
1/2 cup water
Method
Stir salt and 2/3 cup water in a saucepan over low to medium heat for 4-5 minutes.
Remove from heat
Mix corn flour with 1/2 cup water and add to the mix in saucepan. Stir until smooth.
Return mixture to low heat and continue to stir until good has thickened, this will happen quickly.
Related Articles
How Water Play Teaches Children the Importance of Conservation

Whilst recognising that water is a precious resource, when using it to explore and explain its importance to life, children can learn valuable information about how and why it sustains life.

Read more

Exploring Change through Scientific Processes

With just a few ingredients, simple experiments can be conducted with young children that assist in exploring the learning of abstract processes that create temporary and permanent changes.

Read more