C&K Childcare & Kindergarten Website Ordering Process
WEBSITE ORDERING PROCESS
LOGGING INTO YOUR ACCOUNT
2. Navigate to the login page by clicking the login button, located on the top right-hand corner of the screen:

3. Enter the login details that have been provided to you. Your login username can be either your registered email address or your Bellbird Customer Code. Your Code will begin with the letter 'C' and be followed by a 5 digit number. Your initial password will be generic, however you are able to change your password once logged into your account.
4. If you have forgotten your password, simply click on the circled link as shown in the below screenshot. You will be prompted to enter the email address registered to your Bellbird account, and a reset link will be emailed to you.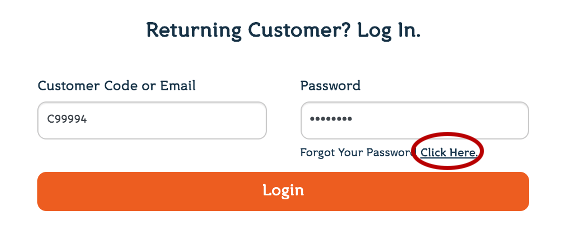 NAVIGATING YOUR ACCOUNT
Once you have logged in, you wil be taken to your account homepage where you have access to a range of actions.
Firstly, your Early Education Account Manager's details will be at the top of the page, so if you need to contact them you can easily find their phone number and email address.

If you scroll further down the page, there are nine buttons you can use to navigate to different parts of the website:
Edit your contact details. Most of this information will be pre-filled, however there is a field where you can add any order/delivery instructions that apply to your centre such as opening hours or who to contact.
Manage your delivery addresses. This will also be pre-filled for you, so only update if there is a change at your centre.
To update your password, enter your current password followed by your new one. We can't access your password so be sure to write it down in a safe place!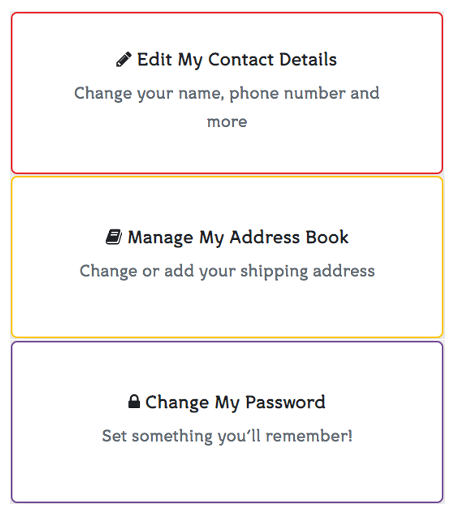 Pay Invoices Online, Invoices will be managed and paid for by C&K Head Office, so branch services don't need to worry about accessing this page. Affiliate centres may access this page for orders they've selected the 'pay later' option for.
My Orders, You can view the status of any current orders, track and trace once dispatched, view past orders and print or download summaries for your records. Here you also have the option to add past orders to your cart and amend as needed before payment.
My Quotes, Here you can view and manage your quotes. You can also visit this page to convert an existing quote to an order.
My Wishlist, Creating wishlists allows you to save a record of items that you can return to at a later date and add to cart.
Claim's Centre, Navigate to this page for further support with an existing or past order.
Reorder Items Easily repurchase past orders.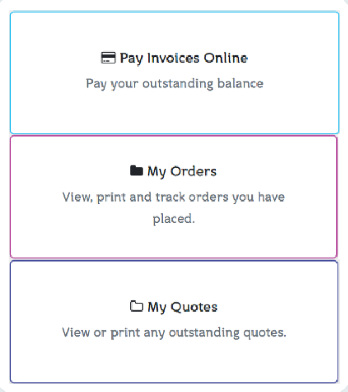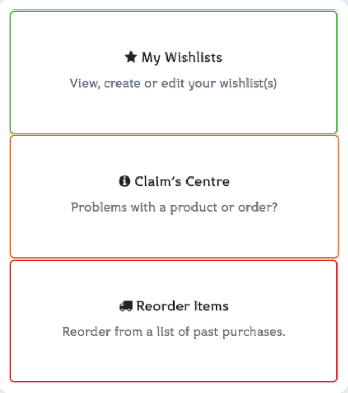 1. Find the product you would like to order by typing the name or SKU into the search bar. Alternatively, hover your mouse over the Products tab and select the appropriate category.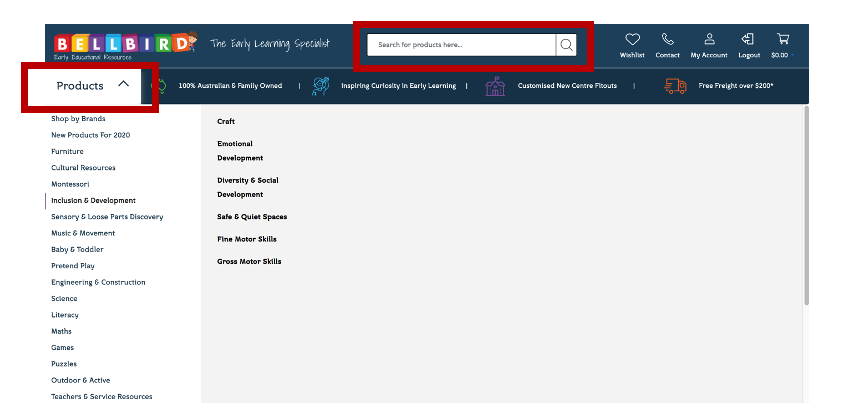 2. If you have searched for a product by name or code, the results will appear on the next page.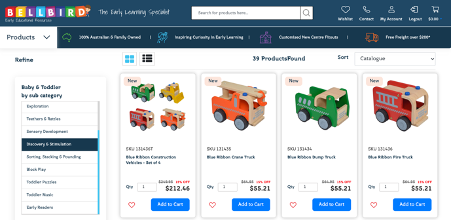 3. There are a number of actions you can take at this point: add to cart by clicking the blue button, view the product details by clicking the product image and add to wishlist by clicking the heart. To build your order, add the product to cart.
4. Continue to add products to your cart in order to build your order. When youíre ready to finalise it, click on the cart button at the top right-hand corner of the page and select Checkout.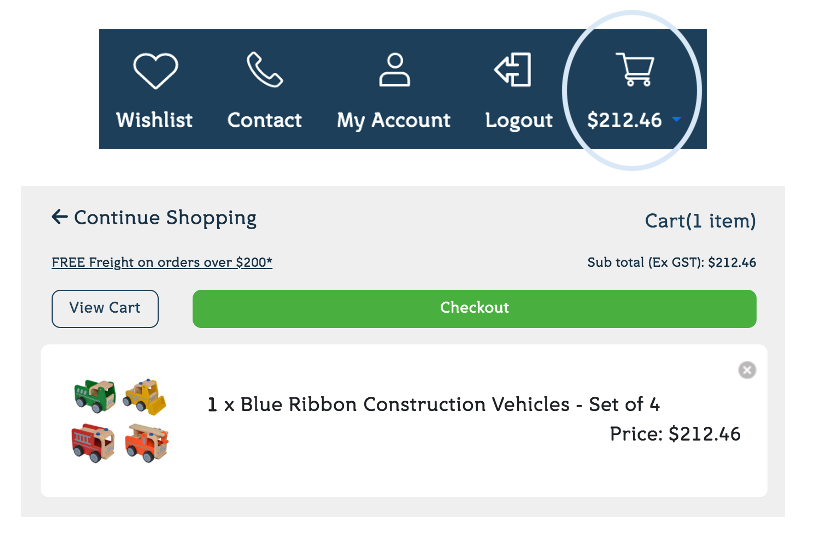 5. Check your contact, shipping and billing details are correct, and update if necessary. Add any relevant delivery instructions, or a purchase order number, confirm if a member of your management has approved the order, indicate if your centre is open during school holidays and process to the payment details section.
6. Select your payment method. All C&K branch accounts have a trading account with Bellbird, and payment will be managed by your Head Office. If you donít see the Pay on Account option, please contact Bellbird for further assistance.
If you are a C&K affiliate service, please choose one of the instant payment methods available. You can also choose to pay at a later date via direct deposit or cheque, however please note that payment will be required before goods are despatched. Alternatively, you are welcome to contact Customer Service to apply for a credit terms account.
7. Click the checkbox to agree to the terms and conditions and privacy policy, then click Confirm and Process Order. Your order will then be sent to Bellbirdís customer service team for processing and you will receive a confirmation email with the details of your order.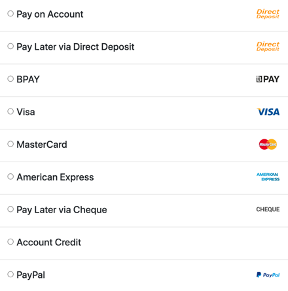 CREATING A QUOTE
1.Search for the products you would like to add to your quote (for further guidance on this, please see the above steps outlined under 'Creating an Order'). When you're ready to finalise it, click on the cart button at the top right-hand corner of the page and select View Cart.
2. The next screen will present a range of options. After calculating shipping, applying any relevant discount codes or updating your cart, click Create Quote to save the items in your cart as a quote.
3. Check your contact, shipping and billing details, and update if necessary. Add any relevant delivery instructions, indicate if your centre is open during school holidays, agree to the terms and conditions and privacy policy, and then click Confirm and Process Quote.
4. You can return to this quote at any time under the My Quotes section of your account dashboard.
5. Once you return to your quote, there are a range of actions you can take:
convert your quote to an order

add or remove items from your quote

Update PO#: add or change the purchase order number shown on the quote

download the quote as a PDF for your records

Send email: send the quote to yourself or others

permanently delete the quote from your dashboard. Note that this action cannot be undone, so please be sure you want to remove this quote before clicking 'deleteí

print a copy of your quote for your records
6. To add a purchase order to your quote, click the Update PO# button and enter the purchase order number in the field shown.
7. To approve your quote, click the Approve button. You will be taken to a new page where you can review your quote. To convert your quote to an order, click Confirm & Approve Quote on the top left corner of the quote.
8. If applicable, enter a purchase order number, who the order has been approved by and any delivery instructions, then click approve.
9. Your quote has been converted to an order and sent to Bellbird for processing. For customers with account terms, your payment terms are reflected on your order. For those who do not have account terms with us, click Pay Now to pay for your order.
10. To save a copy of your order, click Print Order, then select save as PDFfrom the destination drop down box and save to a destination on your computer.
CREATING A WISHLIST
1. A wishlist is a handy way of saving your favourite items all in one place for easy reference. Click on the heart icon at the top of the page to take you to your wishlist dashboard.

2. You can create as many wishlists as you like. To create one, simply type in the name of your wishlist (for example, 'New Centre'), and then click Add New List.

3. You can now add items to your wishlist. When browsing products, click the heart icon below the product image, select the wishlist you would like to add that product to and then click Save My Wishlist Changes.
4.You can then view your wishlist at any time, and add items to an order or quote directly from your list.
HELP
If you require any assistance with your online account, please feel free to contact our friendly Customer Service team via one of the below options:
Phone: 1300 368 268
Email: enquire@bellbirdkidz.com.au
Chat: Type www.bellbird.com.au into the search bar of your web browser. At the bottom right corner of your screen will be a chat icon. If the speech bubble says we're online, one of our Customer Service team are on standby to assist with your needs.
Our FAQ page may also help answer your question. You can find our FAQ page here: www.bellbird.com.au/faqs/
stessssssss Additional reading materials are available from our resources page, which you can access from this link: www.bellbird.com.au/resource-centre/